EAST & WEST
featuring
ANDREA VICARI
with
ELVIS STANIC -
guitars, harmonica, accordeon,
mandolin, lapsteel guitar, keys 6, 7, 8, 9
ANDREA VICARI -
piano, wurlitzer, vox 2,6,7
HRISTO YOTSOV - drums
RICO DE JEER - bass
MEDINA MEKTIVA -
voices & violin on "SARI GELIN"
Sari Gellen - "Medina's haunting vocals and violin performed in unison add an authenticity that takes this number beyond the jazz sphere and into a class of it's own." London Jazz News

East and West" .. demonstrates their apparently never-ending scope for harmonic creativity and highly-focused improvisation"
The Musician Magazine

Jazz Ex-Temporé "An important and enjoyable contribution to the new, emergent European jazz - full of confidence and creativity." Dave Gelly - Observer Jazz Critic
"fabulous, fluid playing by all with Andrea's sweet, choral vocal tone gelling the irregular bar lengths into a melodic melange." Jeanie Barton, London Jazz News
SAMPLE TRACKS

1. The Occidental Tourist

http://www.andreavicari.com/ENW/occidental.mp3

2. Breakout

http://www.andreavicari.com/ENW/occidental.mp3

3. Sari Gellen

http://www.andreavicari.com/ENW/occidental.mp3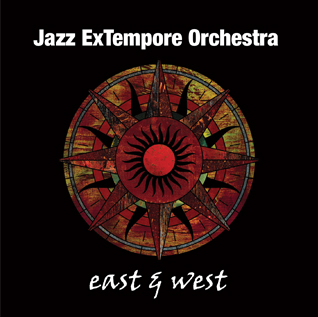 Jazz ExTempore has recorded a new album; 'East and West' released by "33 Records". This second album from Jazz Extempore features Andrea Vicari on piano (from the UK), Elvis Staniç on (guitars and accordion) from Croatia, Rico de Jeer on bass (from Holland/Indonesia) and Hristo Yotsov on drums (from Bulgaria). Medina Mektiva from the UK and Azerbaijan also features on one track 'Sari Gelin'. The new album brings together the jazz tradition with Eastern folk elements in a contemporary style. There are originals compositions from all members of the group as well as two arrangements of traditional folk tunes from Croatia and Azerbaijan. 'Sari Gelin' features new vocal talent Median Mektiva who sings this Azeri folk melody with all the traditional inflections and embellishments so common in Eastern music. 'Ivan Klakar' is a fictitious character in Croatian folklore who survived a terrible storm at sea in a boat. Elvis Staniç's arrangement of this observes elements of the original melody but adds jazz chords to the harmony and the time signature has been changed from 3/4 to 4/4.
The CD title 'East and West' describes the core of the band with the East represented by Elvis Staniç and Hristo Yotsov and their compositions (Breakout, East and West, Wandering Shadows) and the West by Andrea Vicari and Rico de Jeer and their tunes (The Occidental Tourist, Elf, Base my Life and Lanziamentos del Verde). 'Harvard Street" by Elvis Staniç and 'Sari Gelin' co arranged by Andrea Vicari and Medina Mektiva cross over the boundaries and offer elements of each other's cultures.
Elvis Staniç is Croatia's top jazz guitarist as well as a sought after producer for jazz and pop. His playing on 'East and West' is guitar virtuosity at the highest level- intensely melodic with edge. Andrea Vicari complements the quartet with an equally melodic style entwined with rhythmic and outside lines. The strong writing on this CD and the equally strong playing from all members of the quartet makes this CD a real work of art.

The group was initially formed as a cultural exchange between Croatia and other European countries with gigs in Croatia (Zagreb jazz club, Liburnia jazz festival), Bulgaria (Live Club Sofia, Plovdiv jazz festival) as well as Holland and England (Scarborough jazz festival 2010) and more recently the group toured Eastern Europe including Bosnia, Herzegovina, Croatia and Italy. Medina Mektiva studied violin at Trinity Laban conservatoire.